This trip supports my 2022 Adventure Fundraiser for The Cairn Project. I'm climbing peaks to raise grant funding for female youth-serving organizations to expand access to outdoor learning and experiences! See all the posts in this collection.
Mount St. Helens Worm Flows Route: June 8, 2022
What we expected to be a possible turn-around day ended up having fantastic conditions!
My climbing partner Katie and I had been trying to return to this mountain for months. Typically, we'd have our first spring summit in March or April. But with the mix of late-season snow (and resulting road closures and avalanche risk), travel, work schedules, and hard-to-get permits, we finally got our "warm-up" for the season in on June 8th.
On our drive to the trailhead, we voiced our intentions for the day.
Katie wanted to "shake off the cobwebs" that had gathered since last season and to feel the intuition in her trip processes. (She mentioned psychology's concept of conscious vs. unconscious competence— when a learned skill takes concentration/effort vs. when it becomes second nature— and we paralleled that to getting back into alpine readiness.)
My personal intention was to finish the day feeling confident that I could solo Mount St. Helens in the same conditions (I haven't done it without a partner before).
We left the trailhead at 7:45 AM and headed up!
The first ~2 miles of the route are forested, and we encountered patches of snow that became more consistent after a mile. When we approached treeline, we got a view of the upper mountain whose top was still shrouded in clouds.

We'd seen the forecast and knew that with the 100% chance of clouds, there was a chance visibility could shut down, which could potentially force us to turn around early. But there was no cause for alarm at this point; we decided to keep an eye on changing conditions and reassess periodically. Rain and wind were not issues.
We gained a ridgeline and poked our way through exposed rocks. Considering we usually climb the winter route earlier in the season, there were way more rocks to deal with than we were used to! In some parts of the route, we decided to stick to the boulder-strewn ridges instead of the snow, since we'd noticed some questionable tracks and loose, wet snow in the gullies.
Once we'd gotten above the rock ridges (around the weather station), we strapped on our crampons for the remainder of the ascent. We kept a relaxed pace as the route steepened, and we marveled at the fact that the cloud cover seemed to continue to dissipate. The wind was light and temperature was pleasantly mild, so we took a handful of short breaks to chat with others, enjoy the views and have girl talk. We even got the gift of this special rainbow across the sky over Mt. Hood!
We arrived at the summit about 5.5 hours after leaving the car, feeling awesome and strong. I'm true to my word, so I donned my cowtfit (cow outfit) for some silly photos after promising I would if enough folks donated to my Adventure Fundraiser. Yay for moontaineering!
We spent ~45 minutes on the summit with just a few other folks coming and going. We could see a bunch more climbers still making their way up. We'd also seen a few parties who'd had alpine starts, even starting by 3 AM. (One woman solo'ed it overnight and saw two bears in the forested section!)
After enjoying the view, we bundled up in anticipation of it being cooler without the uphill effort, then started our way down the slope. We kept crampons on, though the snow was getting softer as the day went on.
After a short descent, we took off the crampons so we could take advantage of the incredible glissading conditions. The chutes were well-defined and the soft snow was super slidy.
We glissaded a handful of slopes, and WOOOOOOOOOOOOOOO! What a dream! I giggled a ton and enjoyed every moment with Katie.
Once back at treeline, we picked our way across rocks again, and eventually the dirt/lingering snow combo. Total descent climb was ~3 hours. We reflected on our intentions for the day— Katie to get back into her intuitive skills and me to feel comfortable potentially climbing the route solo— and both felt like they'd been successfully realized.
We let our contact know we'd made it back safe and that we'd meet friends at Backwoods in Carson to refuel with some beer cheese and, well, beer beer.
Quick Lists
Risks we noted:
We watched small point slide triggered by skier on adjacent slope. Katie and I have both taken avalanche safety courses, so it was pretty alarming to watch. The skier was fine and stayed on top, but a large amount of snow tumbled downhill and you could see the clear path after it settled. (Although it wasn't devastating, Katie called it an avalanche that "would knock a human off their feet," which can be very consequential on a steep snow slope.) It made us wonder more about avalanche potential on this mountain, since it's often said that you can avoid avy terrain on the whole route. This was maybe 100 yards away from where we stood on the route.
We saw a group of climbers glissading with traction on. This can lead to injury if your gear catches onto snow.
One climber turned around partway up the mountain because they had no traction at all and couldn't safely continue.
The weather forecast called for a lot of cloud coverage, giving the risk of losing visibility. This turned out to be a non-issue.
We witnessed a couple folks descending the wrong ridgeline down from the summit. This is a common mistake on Mount St. Helens; following the fall line (straight downhill, where a rock would fall if you dropped it) sends you down the wrong ridge and away from the trailhead. Based on footprints we saw later, we believe they made it back to the correct route, but it can be a dangerous traverse.
Safety precautions we took:
We gave a thorough trip plan to our safety contact a day before our climb. They knew when to expect to hear from us by, and what to do if we didn't get in contact with them.
We brought a Garmin inReach in case of emergency or need to reach our contact without cell service.
We tracked our routes on Gaia in case of visibility issues, starting at the trailhead.
As always, we took our Ten Essentials plus mountaineering gear appropriate for the conditions.
So. Much. Sunblock.
Type 1 fun:
My fundraising cowtfit was hilarious. The skiers at the top later told us they considered filming the photoshoot for "Influencers in the Wild," but decided that'd be mean without asking.
Fabulous glissading conditions!
Beautiful rainbow!
Quality time with a lovely friend and climbing partner who also loves long endurance workouts, cheesey snacks and letting out farts without shame.
Type 2 fun:
Scrambling over rocks in stiff boots was a pain.
Having to go back to the indoor world… until next time.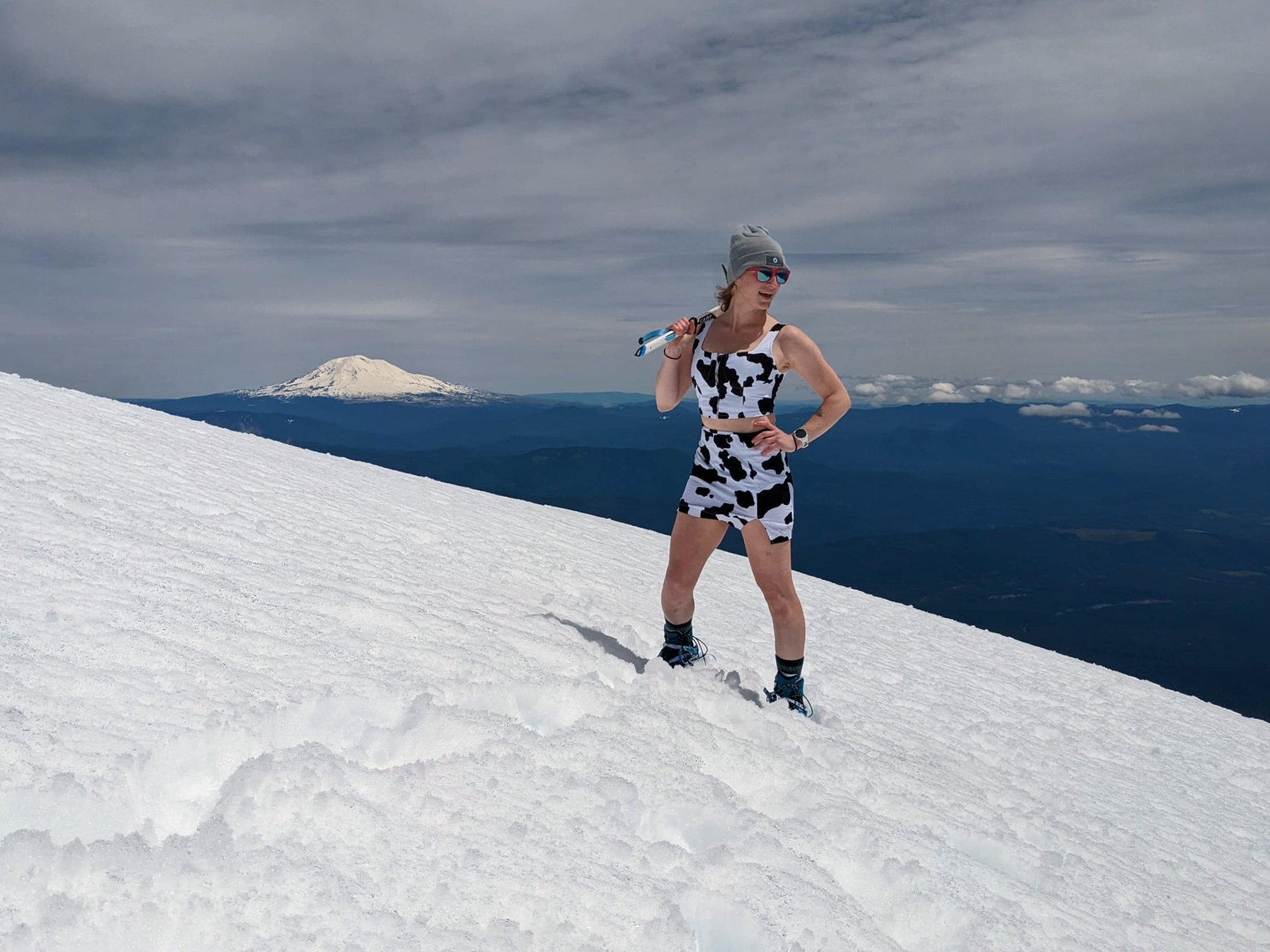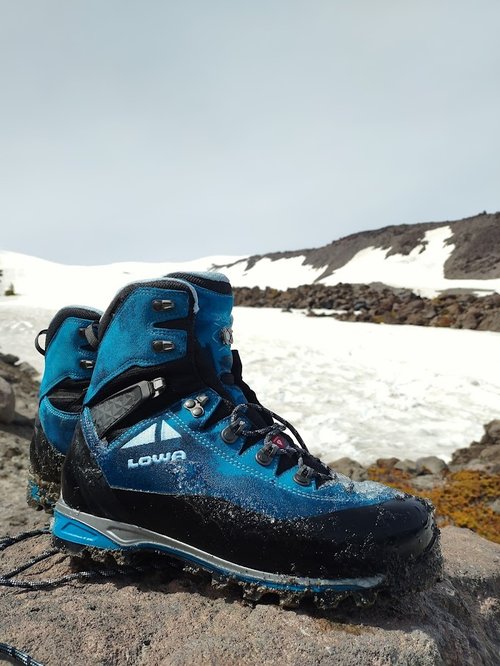 What should I wear on my next climb?
Read part 2 of this collection.
Angie Madsen is a volunteer Ambassador for The Cairn Project. This year, she's tackling a big challenge: climbing a LOT of the volcanoes dotting the Cascade Range in Oregon and Washington. For more info, check out Angie's fundraiser, her wonderful blog, Outspired, and her ambassador page!